— Spiritual Van Life Story | Part 3 —
Things come and Vanish
How our project developed
The good news is that we made our maiden drive with our camper vehicle, which gave us reasonable confidence that this construction would last down to South America. Unfortunately, Jens got the message that the delivery of personal items from Germany he expected this week would take another ten days to arrive. Even though we would like to hit the road sooner than later, we try to look at the bright side of this situation. Now we have time to implement some other features in our mobile home.
We are still dealing with the essential modifications that need to be done. Jens made a considerable effort to design and prepare pieces for a cage system that will protect the hull of the camper and will give us more options to attach other stuff to it. To have the proper means and tools to weld all rods and pieces to the hull, we went on our maiden drive to a workshop on a farm about 65 km outside Medicine Hat.
The perfect context for creation
This location was almost exactly what I expected from farmland in northern America. We left the highway to the right and proceeded on some straight unmarked road—a road that ends like all roads here, right behind the horizon with no curves at all. After 10 min still rolling on concrete, we made another turn to the left at a 90° angle to the next dead straight road consisting of gravel. Then we took another left turn through a wired gate on a dirty way that led to a modern box-like hangar used as a workshop. Now we are in full offroad mode.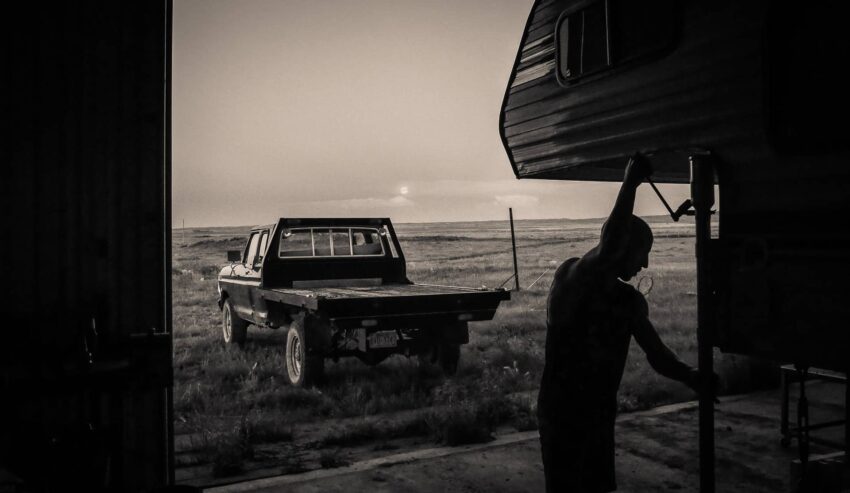 Post-Apocalyptic Art Exhibition
My first impression of this place is hard to describe. It seemed almost surreal. Imagine a Matrix white room loading program or a blank virtual reality environment where someone at least tried to add pure blue for the sky and grassy texture for the ground. Now put this oversized white shoebox-like structure right in the middle of the scenery and place some random junk around it – and you should be able to visualize what our home for the next three days looks like.
Old cars are scattered like post-apocalyptic art sculptures all around the area. I think this could easily be some sophisticated exhibition where the artist likes to make a strong statement on the decay of modern society. When the night was about to fall, I gazed at the sunset. I am sitting on a red chair in the middle of nowhere with nothing but blue and green in front of me. This approach is almost a zen-like reduction to the essence of a landscape.
The mirror effect
Philosophically speaking, this place is a good mirror of my life situation. The hangar is like a bigger version of the camper—our shelter and the epicenter of my life. At least both objects are made of the same material and have other semantic similarities, making this a valid interpretation. The vast endless farmland around me is the undefined quantum space that needs to be filled with creative ideas, plans, and wisdom. And, well, the junk lying around could easily mark the unprocessed emotional issues in my subconsciousness. Those things disturb my inner peace.
That mess needs to be cleaned up, I reckon! I am not quite there yet with my full consciousness – I am aware of that. Still, I am attached to the people I love back in Switzerland. That feeling seems to be my biggest drawback; it prevents me from fully diving into this new experience. Maybe I should write about this situation at a later point in time. Anyway – the critical epiphany behind this contemplation is that I am still lagging in fulfilling the first and most crucial pre-condition to create a new reality: letting go of my old one.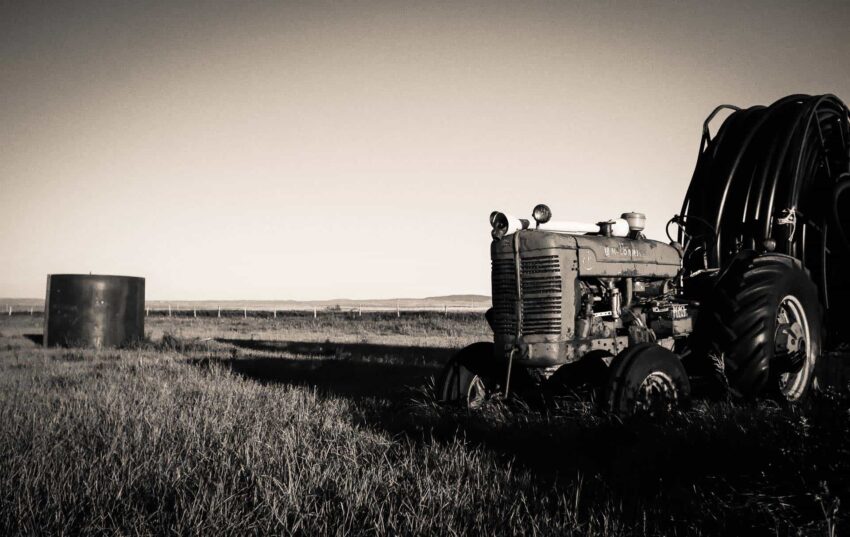 Letting Go of Attachments
This is a tough challenge for me which Jens does not seem to have anymore. He has fully arrived in his new paradigm. While writing this, Jens is working on the cage construction, and I realize how complementary we are. While he is doing all that physical building stuff with all his engineering skills and creativity, I can focus on my way to express myself in the way I like. I started filming, taking pictures, and writing, as I am doing now.
This journey we are about to begin is not only an attempt to live a new paradigm for ourselves. It is also meant to be a form of inspiration to others. We like to share as much as possible, so others can learn from our mistakes or the universal wisdom we could implement in our lives.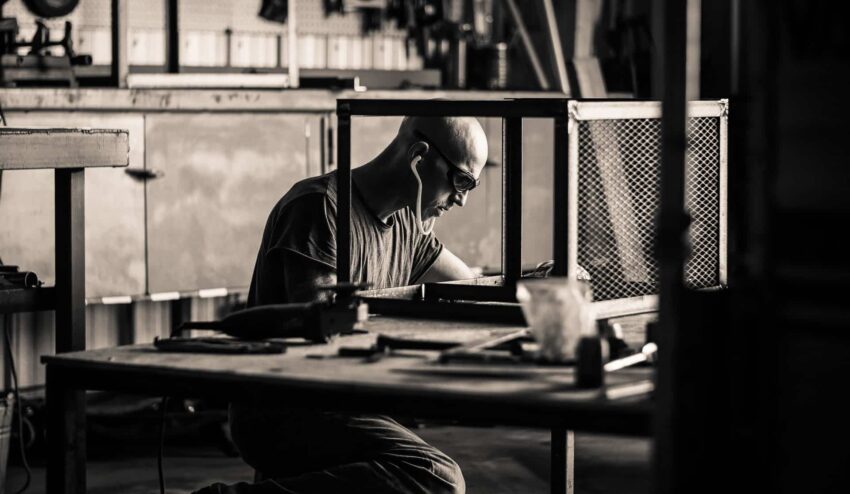 Today's Epiphany
Today's lecture is a repetition of an old revelation I got a long time ago, which needs constant effort to be implemented in every life situation.
"The very nature of life is inconsistency! Everything changes no matter how hard you try to preserve the status quo. Even physical death is just a transition into a new reality. Holding on to things or realities that have vanished or which are about to be taken from your stage of life leads to avoidable suffering. So the only sane approach to establish your own inner peace is in letting go of all attachments, knowing that nothing is for eternity. You came with nothing and you leave this world bare handed. There is nothing you can take to the other side, except from the experiences you made, which hopefully helped you to evolve to a better version of yourself following the spiritual evolution back to the source of all that is."